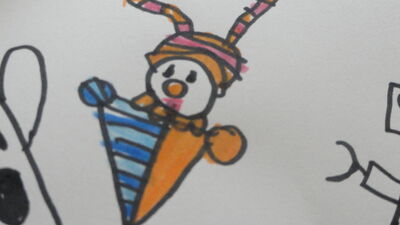 Clowntje is a Lappielander and she live in
Lappieland
. She is cute and a clown.
Clowntje gets a lot of Lappoller from her work.(she works as a clown in a circus)
Description
Edit
Clowntje's body is not with legs, a half place orange a half place striped light-dark blue. White head. A striped orange-pink had with orange-pink ears.
Appereances
Edit
Lakie En Lappie 11 The Air Flight
                       Lakie En Lappie Figures

Hero's Lappie \ Rugby \ Paaltje \ Spookje \ Kirby \ Grote Laketje \ Lakje
Lakieland Villager's Broccolietje \ Mini-Wortelie \ Bosbessie \ Lakie's Oma \ Chompie \ Goomba \ Dino Piranha
Five Great Fighters: Lakie \ Lakker \ Lerkie \ Vlerk \ Glark
Forms:PWR
Villians Lark \ Lapotium \ Rupotium \ Shadow \ Lark's Father \ Bleck \ Lark Soul
Serpentine
Anacondrai: Pythor P Chumsworth \ Pythron \ Spator \ Plyter
Hypnobrai: Skales \ Slithraa \ Mezmo \ Rattla
Fangpyre: Fangtom \ Fangdam \ Fang-Suei \ Snappa
Constrictai: Skalidor \ Bytar \ Chokun \ Snike
Venomari: Lizraa \ Acidicus \ Lizaru \ Spitta \ Lasha
Other: The Great Devourer
Other Villans:
Great Kings: Shadow King \ Electric King \ Ice King \ Tornado King
Robots: Metal Shadow General \ Unknown Robot
Ships: Larfor Star Destroyer
Dwellers Of The Haunted House: King Boo \ Boo \ Booloossus \ Bogmire
Paint Creatures: Paint Monster, Paint Demon
Other:
Money: Lappoller
Clowntje

country

Weapons

not released

Friends

Archenemy

Appereances
Ad blocker interference detected!
Wikia is a free-to-use site that makes money from advertising. We have a modified experience for viewers using ad blockers

Wikia is not accessible if you've made further modifications. Remove the custom ad blocker rule(s) and the page will load as expected.